Profile of: Arthur G. Self, B. Sc, Ph. D, P. Eng
Seasoned Professional: I am a seasoned management professional backed by over 30 years of Engineering, Technology, and Program Management (PM) experience.

I have worked extensively both in High Tech and Defense arenas. I have had the privilege, and benefit, of working in smaller, start-up operations as well as in larger Corporations.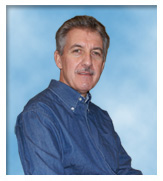 SR&ED Claims: I have significant expertise in preparing, and defending, reports on Scientific Research and Experimental Development (SR&ED) Tax Incentives.
Technical Writer: Over the years, I have published in a wide range of technical journals. In 2010, I have been retained by a European magazine to prepare four different technical articles.
Patent Writer: I have been using my technical writing skills for the direct benefit of clients, including the writing of patent applications submissions.
Engineering Management: Outside of my technical and program management skills, I have extensive experience in "sorting out" Engineering organizations and driving them forward with a highly motivated workforce to significant growth in business revenues. In brief, my experience spans the following:-
Wide Range of Differing Technologies
Systems engineering
RF, Electronics, Software engineering
Defense Technologies (HF to 100 GHz)
Telecommunications Technologies (fiber optics, lasers, detectors, etc)
Research & Development (R&D) Management
SR&ED Report preparation, submission, etc
Demonstrated expertise with R&D Teams up to 100.
Analysis of R&D Team issues/deficiencies and then refocusing/re-motivating/growing R&D Teams.
Demonstrated PM expertise in multi-$M programs.
International R&D Leadership
Motivation/growth/retention of R&D Teams in Canada, UK and China [across 12 time zones].
Extensive experience in Team downsizing per Corporate cost reduction strategies.
Defence and Electronic Warfare (EW)
My career has spanned Govt R&D and several senior positions in the Defense Industry. In more detail:-
Delivered an advanced Naval ESM system (0.5-40Ghz) employing the latest RF, A/D, SBC, GUI and fibre-optic technologies.
Led Technology R&D activities into Shipborne EW upgrades and subsequent sea trials of new solutions.
Led R&D into Army ECM and advanced intercept receivers for ELINT/SIGINT.
Led signal propagation trials (VHF-to-RF) and propagation loss prediction models.
Author and Instructor on 3-day Technology Seminars for various customers including: Research Associates of Syracuse (RAS) (www.ras.com), and the Association of Old Crows [AOC] (www.crows.org).:-

"Integrated Shipborne Protection"
"Tri-Service Offboard Countermeasures"

Collaborated with Dr R G Wiley on his new book "ELINT: the Interception and Analysis of Radar Signals" published by Artech House. ISBN 1-58053-925-4. Author of Chapter 4 entitled "Probability of Intercept".
"EW Intercept Probability – its evolution", by Dr A G Self in Journal of Electronic Defense, August 2006
Published on a wide variety of technical issues. Currently, I am being retained by the Naval Forces (www.monch.com) magazine to write on a wide range of technical topics.
Technical Reviewer for the IEEE-AES periodical.
Expert Witness services provided on Shipborne EW.
Recognised International EW expert.
Quality Management (ISO 9001 and TL9000).
Qualified ISO 9001 Lead Auditor.
Demonstrated QMS expertise.
QMS Management Representative for 6 years.
Demonstrated expertise in achieving, maintaining and expanding ISO 9001 and TL9000 Certification.
Site Management
Management of Site activities [planning, financials, security, Human Resource aspects, etc].
Site/lease closure as per Company needs and legal [lease] requirements.
Planning and achievement of new Site location and move-in.
Company Interface to external world [customers, press, etc].
Company Leader in all staff communications, hiring/firing, staff motivation activities, pay increases, etc.
Education:
Doctor of Philosophy (Ph.D) in Physics, University of Sheffield, UK
Bachelor of Science (B.Sc) in Physics, First Class Special Honours, University of Sheffield, UK
Professional Engineer of Ontario [P. Eng]
Accredited QMS Lead Auditor for ISO 9001:2008